As we head towards the end of the year 2021 after an even better summer, Phoebe as the chief instructor at Castle Harbour discusses the benefits to paddle boarding.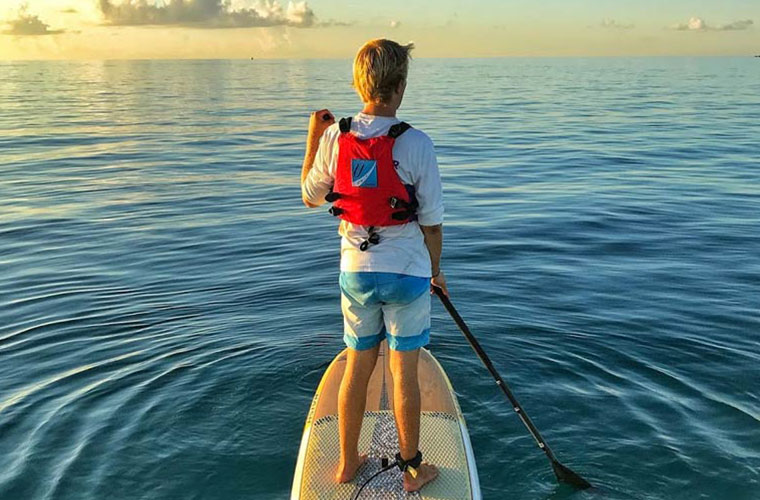 Paddle boarding has been one of U Sail's most popular summertime activities. The calm, beautiful waters of our centre on Castle Harbour at the Rosewood Tucker's Point Hotel is the perfect environment for people of all levels. Not only is paddle boarding a great way to connect with nature but it also has a number of benefits.
Improves balance: As SUPing requires you to stand and paddle on the board it helps with core stability on balance. The practice you get whilst out on the water is invaluable in your day to day life.
Full body workout: Linked to the improvement in balance, SUPing is a low impact full body workout. Due to the balance required your legs and core are constantly working to maintain stability. Not only this but with every stroke your arms, shoulders and back are naturally toned. All of this is done at a relatively low impact so is a great alternative to other forms of exercise such as running.
Boosts mood and reduces stress: The step out of the office and onto the water for a bit of exercise will not only boost your mood due to the release of endorphins whilst exerting but will also reduce stress and may even improve productivity at work.
Useful in rehabilitating injuries: Because of paddle boarding's low impact nature, it can be a great tool for people rehabilitating injuries as it will help to gently increase strength without doing any harm.
Better cardiovascular health: The continued paddling increases your heart rate slightly whilst will lead to improved cardiovascular health and less risk for related diseases.
If you are interested in reaping all the benefits stand up paddle boarding has to offer, book your stand up paddleboard hire at U Sail Castle Harbour or send us an email at: [email protected] to reserve your space today all year round!