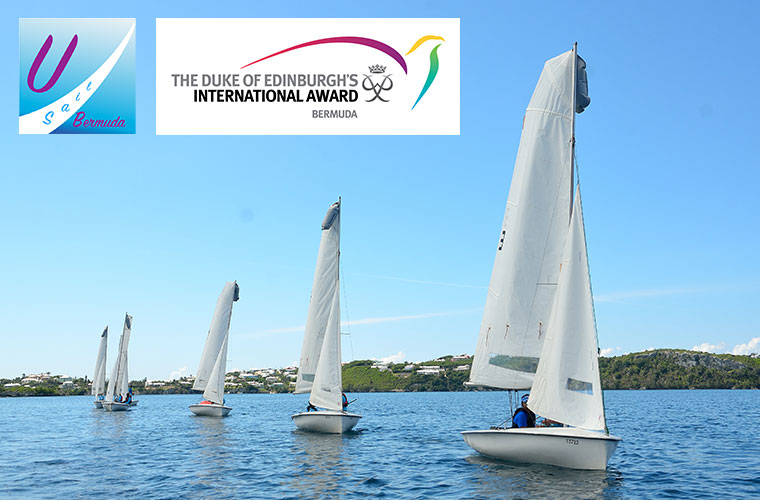 U Sail Bermuda Centre, Harrington Sound, Bermuda
August 8th to August 11th the Duke of Edinburgh Gold Participants take on Harrington Sound by using traditional paper-based navigation for the very first time.
U Sail Bermuda in partnership with the Duke of Edinburgh award is pleased to announce that 9 participants completed their 4 day gold adventurous sailing journey on Harrington Sound, Bermuda. This was a fantastic opportunity to encourage more youth on the island (especially ages 16+) to combine learning to sail at any age, by completing their Royal Yachting Association (RYA) Dinghy Start Sailing Level 1, Basic Skills Level 2, Seamanship Skills and progressing across 3 long weekends to complete the challenging adventurous journey.
The participants used these new found skills to demonstrate reefing in adverse conditions, anchoring whilst under sail, sailing without a rudder, person overboard recovery, all whilst working together as a team and using essential communication skills to complete the journey. In addition to the skills tested, there were a series of challenges thrown at them which included; rescuing a capsized vessel whilst transitioning to their journey waypoint, a 'real life' person overboard recovery. The students were also informed of some basic maritime law where they must always keep a watch out for others whilst at sea. This included a mock distress signal given from an Orange smoke flare thanks to the support and permission from Bermuda Maritime operations centre. This gave students an understanding that they must always attend to those in distress under SOLAS law at sea.
Prior to the practical exercise and assessments, during the covid-19 lockdown, participants completed training by the Duke of Edinburgh International Award Bermuda; by taking part in virtual Award Training. This included; first aid, camp craft, observation, recording & report writing, map and compass reading, nutrition and team building.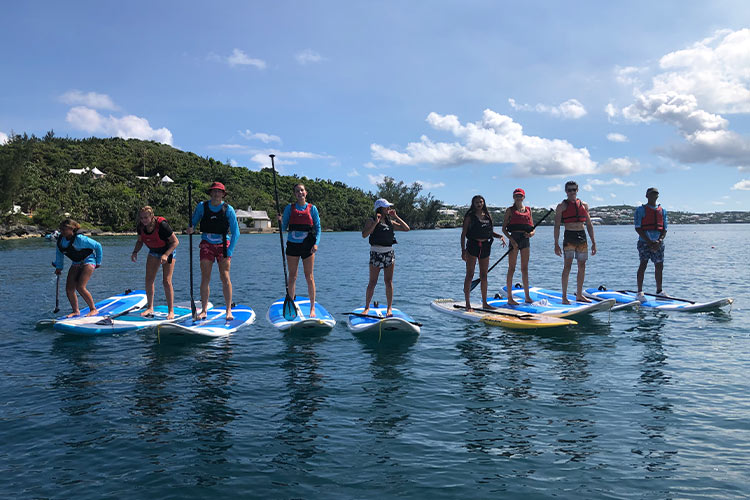 The participants included
Max Blakeney
Hailey O'Donnell
Linnea Kuruvilla
Genevieve Lau
Daniel Osset
Thomas Peckett
Jaime Proctor
Angel Seaman
Emma Stegmann
Award Leaders/Assessors in Training
K'ari Bean
Bryana Bell
Brianna Simmons
Jevon Talbot
Treiana Zuill
U Sail Bermuda's activities director, Thomas Penruddocke, says " It's fantastic to see the group of participants on day 1 with little to no experience of being in a sail boat and seeing them sail with confidence during the journey, they planned at length using their new found skills and knowledge learnt. We aim to continue to inspire more youths to get involved in the Duke of Edinburgh Program and in such a great sport like sailing with us at the U Sail Bermuda Sailing Centre."
Overall, it was fantastic to see the participants, award leaders/assessors in training and supervisors enjoying themselves while learning in a safe and fun environment with our excellent team of RYA instructors.
If you want to find out more about the Duke of Edinburgh Gold Awards Sailing Program, feel free to head to the Duke of Edinburgh section on our website, which can be found here.
If you would like to help bring more youths back into sailing by completing their Duke of Edinburgh training, feel free to contact us at [email protected] to make a donation towards the Duke of Edinburgh Awards in Bermuda.