Overview
This Transitional 29er training's aim is to introduce the students to the boat. The week will give them an all-round understanding of skiff sailing for both the crew and helm.
Requirements
Ability: Sailing to a Strong RYA Dinghy Level 3 or Youth Stage 4 standard being able to confidently sail in a regular single or double hander in a range of wind conditions.
Age: 14 + years
Details
Duration: 5 Days
Instructor to Student Ratio: 1:6
Location: Harrington Sound centre and Castle Harbour centre
Standard Timings: 9:00 am to 4 pm *
Minimum Group Size: 2*
Maximum Group Size: 6
Maximum Total Booking Capacity: 10
* The timings may vary slightly between different activity weeks, but this will be confirmed in the welcome email.
*Please Note: There needs to be a minimum of 2 participants, which is required to make this course guaranteed to run.
Itinerary
A sample itinerary for our 5 day transitional 29er training which can change slightly depending on weather and group sizes/ages

Day 1
The week will start with a centre tour to get familiar with the site followed by a boat orientation session. A demo on rigging, trapezing and tacking will take place before heading out onto the water. On the water upwind tacking and trapezing will be the main focus to get the crew used to being out on the wire and the balance between the helm and the crew. Towards the afternoon, the helm and crew will switch positions to get used to both positions in the boat.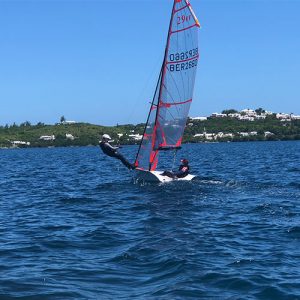 Day 2
Day 2 will start with some boat tuning and how a boat is correctly tuned up for the actual wind forecast. On the water, communication is the key role to ensure the boat stays nice and balanced in order to keep the boat sailing fast. Towards the afternoon, there will be an introduction to asymmetrical spinnaker sailing with rigging and trimming.
Day 3
Day 3 will review some upwind trapezing and balance techniques to then move onto some downwind technique with the asymmetrical spinnaker. The downwind spinnaker sailing will first start out with the instructor in the boat to show a demo. Towards the afternoon, you will develop your upwind trapeze to trapeze tacks. This is to get a better understanding, how and why we do them.
Day 4
Day 4 will look at tuning the boat up for a windy day and comparing the difference with a light wind day. A review on trapeze to trapeze tacks upwind will start the morning off. After that, sailors will go downwind and focus on spinnaker hoists and gybes whilst steering throughout both of these maneuvers. In the afternoon, we will examine the steps to refine gybing..
Day 5
The final day will look at tuning the boat up for the correct conditions and followed by a review of upwind tacking and downwind gybing with the spinnaker. We will focus on the long downwind spinnaker runs. Towards the afternoon, a course will be set to review the techniques learnt throughout the week. We will concentrate on fun speed races to finish the week.
Equipment
We provide the boats, buoyancy aid, water refill station (Please bring your own water bottle for refilling, No Cups will be provided)
Facilities
We have a covered shaded area where we can have land based discussions with a big whiteboard, sit to eat lunch or just take a break. We have individual changing and rest rooms available for use as well as a shower.
Prices
Prices start from $395/week per person
This price includes all equipment and tuition. It does not include accommodation or food
Book Now
If you have any questions at all and would like to speak to our team, please call or email us at [email protected]. Alternatively, please click the button below to be taken through to our booking pages where you can find out information about dates and availability.
"Great sailing center in a beautiful location and with amazing instructors and friendly team, I highly recommend!"

My son and I were total novices and took the RYA Level 1 course over two days at the end of September, coached by Adriana. Little did we know that she was a world level expert in Laser sailing. What we can say is that she was a brilliant teacher. We had two fantastic days out on Harrington Sound, and in spite of a few flip overs, particularly with our gybing when the wind picked up - Adriana made us feel that this was completely normal and gave us great tips to sort it out. A lovely family run business, super friendly, terrific location - I could think of no better place to learn how to sail - can't wait to do the Level 2.

"5 star to U Sail Bermuda. Great place to learn to sail. I've received my RYA Dinghy Level 2 certificate. Affordable rates for the weekend Learn to Sail for both Level 1 and Level 2. I am a pure beginner, so I like how they are in Harrington Sound with minimal boat traffic and it's really just me trying to figure out where the wind is. They are all about safety so- someone is overlooking the water watching with a safety boat ready to go if required when you do boat hire (like I did after I've received my Level 2). Looking forward to hiring paddleboards and doing some windsurfing lessons with them. Overall, always received great service. All the instructors are very personable- Naphali, Donavin, Jonny and Thomas- Thank you for letting me achieve one of my bucket list."

"Our group of 6 ladies had a fabulous time on an introductory course. Just great fun, learned lots but also had lots of giggles. The U Sail team were fabulous. I'm hooked!"

"Had 2 fabulous mornings of WASZP foiling lessons with Aaron, learned a ton and had a fabulous time. I can't say enough great things about U Sail Bermuda, wonderful staff, great service, beautiful location on Harrington Sound, and the boats are in top condition with plenty of spares if things break. I'll be definitely be booking more sessions the next time we're in Bermuda."

"Great session learning to windsurf so much fun!!! Defo coming back for more!! Great instructor & team!!"

"This is such a fun way to get on the water and sail, just for fun! We had three generations out on the water together, laughing the whole time. Excellent team, and a surprisingly affordable price."