RYA Start Sailing Level 1
Description
Start your dinghy sailing experience with us!
After completing this course you will be confident to go afloat in light winds with supervision. Topics covered include how to sail in all directions, including an awareness of launching and recovering a boat.
Please Note: A minimum of 2 participants is needed to guarantee this course to run.
If your preferred date is not available please do get in touch with us at [email protected].
Activity Details
Ability Level
Beginner
Duration
2 Days or split into multiple sessions (16 Hours)
Prerequisites
Ideally, being able to swim
Instructor to Student Ratio
1:2 in boat tuition
1:6 single handers
Minimum Age
16+ years
Material Included:
Logbook, Certificate on successful completion
Price
Displayed on the booking page of each centre by pressing book now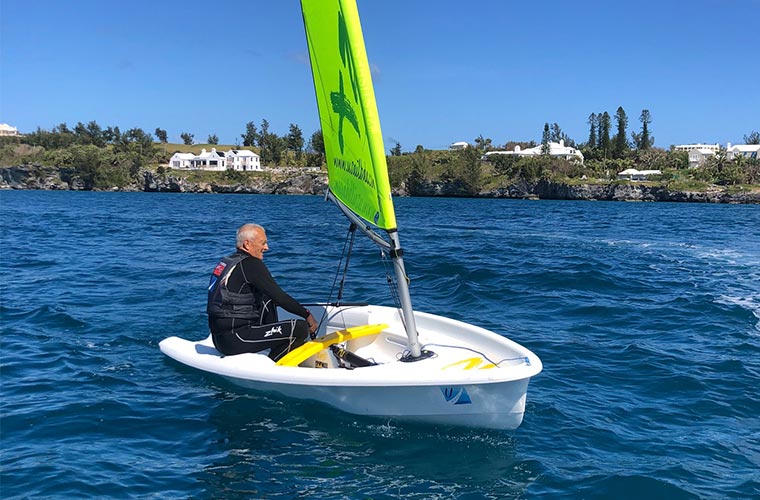 "Great sailing center in a beautiful location and with amazing instructors and friendly team, I highly recommend!"

My son and I were total novices and took the RYA Level 1 course over two days at the end of September, coached by Adriana. Little did we know that she was a world level expert in Laser sailing. What we can say is that she was a brilliant teacher. We had two fantastic days out on Harrington Sound, and in spite of a few flip overs, particularly with our gybing when the wind picked up - Adriana made us feel that this was completely normal and gave us great tips to sort it out. A lovely family run business, super friendly, terrific location - I could think of no better place to learn how to sail - can't wait to do the Level 2.

"5 star to U Sail Bermuda. Great place to learn to sail. I've received my RYA Dinghy Level 2 certificate. Affordable rates for the weekend Learn to Sail for both Level 1 and Level 2. I am a pure beginner, so I like how they are in Harrington Sound with minimal boat traffic and it's really just me trying to figure out where the wind is. They are all about safety so- someone is overlooking the water watching with a safety boat ready to go if required when you do boat hire (like I did after I've received my Level 2). Looking forward to hiring paddleboards and doing some windsurfing lessons with them. Overall, always received great service. All the instructors are very personable- Naphali, Donavin, Jonny and Thomas- Thank you for letting me achieve one of my bucket list."

"Our group of 6 ladies had a fabulous time on an introductory course. Just great fun, learned lots but also had lots of giggles. The U Sail team were fabulous. I'm hooked!"

"Had 2 fabulous mornings of WASZP foiling lessons with Aaron, learned a ton and had a fabulous time. I can't say enough great things about U Sail Bermuda, wonderful staff, great service, beautiful location on Harrington Sound, and the boats are in top condition with plenty of spares if things break. I'll be definitely be booking more sessions the next time we're in Bermuda."

"Great session learning to windsurf so much fun!!! Defo coming back for more!! Great instructor & team!!"

"This is such a fun way to get on the water and sail, just for fun! We had three generations out on the water together, laughing the whole time. Excellent team, and a surprisingly affordable price."