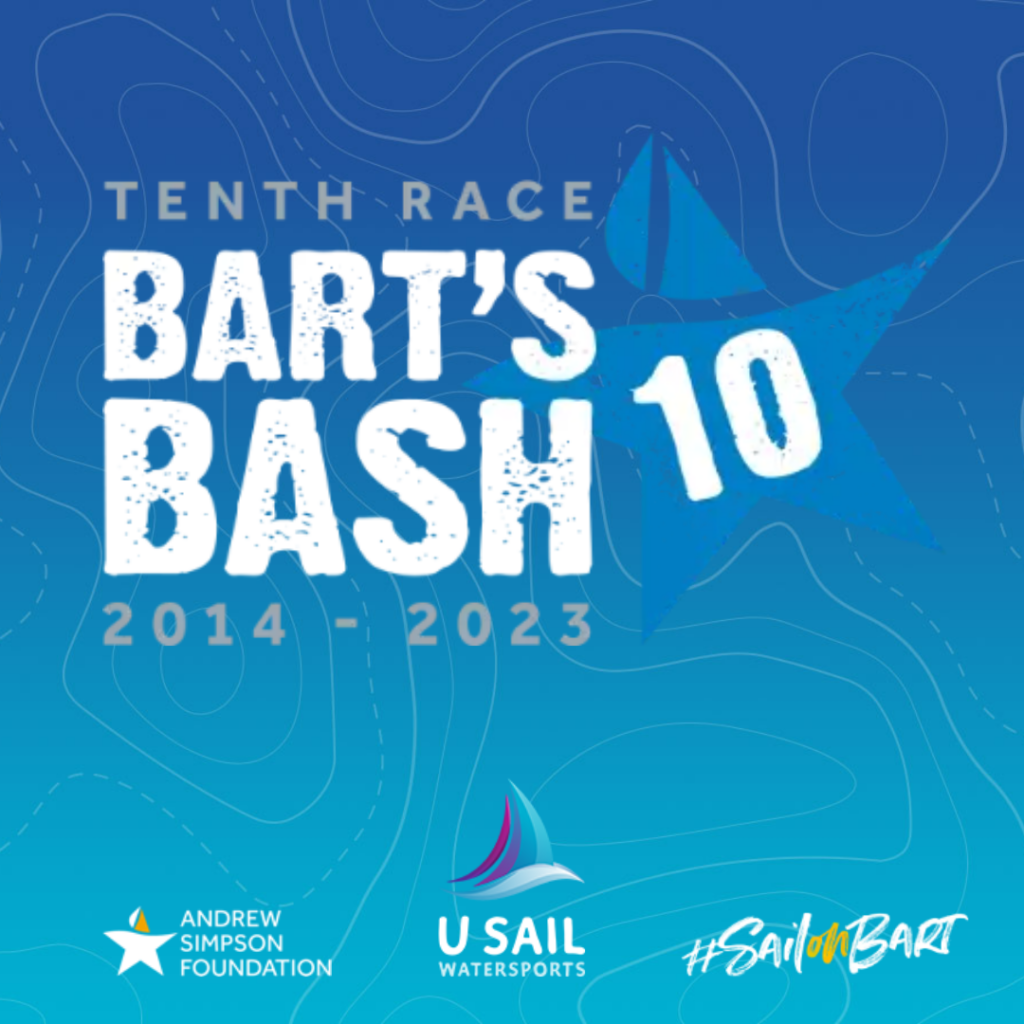 Get ready to embark on a day like no other as Bart's Bash returns to USAIL this Sunday, September 10th, 2023.

This year, we're back with a bigger splash, more excitement, and, of course, the racing! So, whether you're a seasoned sailor or new to the open sea, Bart's Bash is the event you've been waiting for.
A Sailing Adventure Like No Other
The heart of Bart's Bash lies in the thrill of the race. But don't let that intimidate you; this event is all about fun and camaraderie. Whether you're a social sailor looking to make new friends or a seasoned pro seeking some friendly competition, Bart's Bash has something for everyone.
Our event features a fantastic array of boats to choose from, including 420s, Zests, Teras, Lasers, RS Aeros, 29ers, and the ever-popular Multihull Catamaran fleet. You can hire them all. If you're not an experienced sailor, worry not! Every boat comes with an instructor, ensuring that even newcomers can join in the fun.
What is the Bart's Bash event
This year is the 10th annual Bart's Bash Race, where you can to take part in this global event and be ranked amongst the world's finest sailors! All live on their scoreboards. We'll be working with you to ensure you times are recorded.
After the exhilarating race on the open waters, make sure you head ashore for some well-deserved refreshments, including the coveted Bart's Bash Cake. If you're wondering why we're so excited about cake, let's just say our team of U Sail Instructors are big fans, and they know a thing or two about a good slice of cake.
A Family-Friendly Day Out
Bart's Bash isn't just for the seasoned sailors; it's a day of family fun. If you enjoyed sailing with us over the summer, now's the time to get your kids on board. Bring your entire family for a day of sun, sea, and sailing adventure. And for parents looking for something special for the kids, why not let them take the helm and learn the ropes under the guidance of our expert instructors?
Supporting a Noble Cause
It's worth remembering that Bart's Bash is also a fundraising event with a purpose. With 50% of all boat hires going directly to support the Andrew Simpson Foundation and the Next Generation Fund at the Royal Bermuda Yacht Club. Your participation in this event helps young Bermudians access year-round training opportunities, fostering the next generation of sailors.
Itinerary of the Day
Here's a quick rundown of the day's activities:
12:00 PM: Meet in the Additional Car Park, where the Golf Cart Shuttle will be waiting to take you down to the centre.
12:30 PM: Registration & Rigging, including Boat allocations, begins.
1:00 PM: Race Briefing.
1:30 PM: Race Start On Water.
3:00 PM: Refreshments and Cake ashore.

So, mark your calendars, assemble your crew, and get ready to set sail at Bart's Bash 2023! It's a day of adventure and fun, all while supporting a great cause. We can't wait to see you there for a sailing experience you won't soon forget!
The Bart's Bash Website and Andrew Simpson Foundation
Andrew 'Bart' Simpson was an Olympic Gold and Silver medallist who tragically passed away in 2013. Andrew passionately believed that everyone should have the opportunity to experience sailing and watersports, regardless of their background or circumstances.
The first Bart's Bash took place in 2014. Thousands of people from around the world came together to race in memory of Bart. The event was such a success it was awarded a Guinness World Record for the world's largest sailing race.
This year marks the 10th annual Bart's Bash Race. The event continues to connect the global sailing community, create opportunities for people to get on the water and raise essential funds for the ASF. With your help, Bart's Bash will continue to be a global event, enabling people to get out on the water and keeping Bart's name alive for generations to come.